Pretty 'n Pink and our Pre–Loved Fashion Charity Shop based at the Park Centre, Belfast have been working with The Original Used Clothing Co for a couple of years now. We have been working in partnership with them to offer a unique bra recycling service.
This has proved to be a great success. We have bra bank locations all across Northern Ireland as well as in private businesses who collect bras for Pretty 'n Pink.
The working partnership developed in 2018 and we now have approximately. Fifty large pink clothing banks all across Northern Ireland.
Donate to our pink clothing banks
Pretty 'n Pink have pink clothing banks in various locations across Northern Ireland. Clothes and bras can be dropped off at the clothing banks. These banks are maintained by Original Used Clothing Co and items will be collected on a regular basis. The banks can accept clothes, underwear, shoes (paired), bed sheets, curtains. The bins cannot accept toys, carpets, wet or soiled clothing or household items.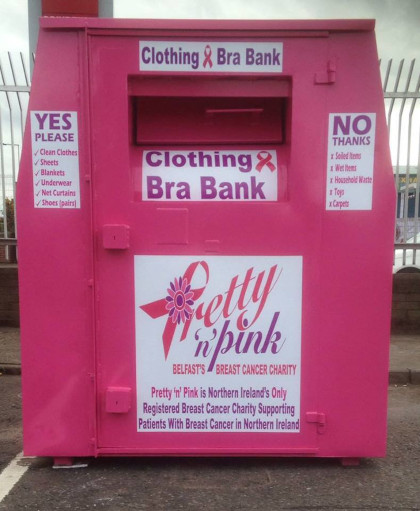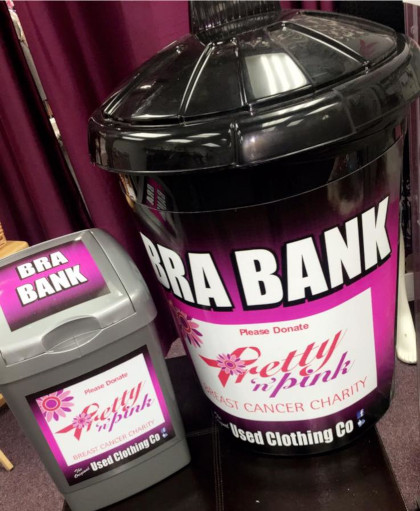 Donate to our bra banks
Ladies show your support and give us your bras.
Have you ever wondered what to do with your old/unwanted bras rather than throw them away? Look no further, we have the solution for you. We have teamed up with Original Used Clothing Co to offer a bra recycling service.
Original Used Clothing Co will donate to Pretty 'n Pink £1.00 for every kilo of bras. These bras will then be recycled and shipped to third world countries for use by the ladies in those countries who cannot afford the luxury of having a bra.
We have various drop off points throughout Northern Ireland. Please contact our office for details of a drop off point near you.
Bras can also be dropped off at our Pre-Loved Fashion Shop at Unit 22, Park Centre, Donegall Road, Belfast, 02890 314372.
Get Involved
If you or anyone you know is interested in having a bra bank in your home or office premises, or you are a business owner and would like a clothing bank at your business premises, please contact us for further details.