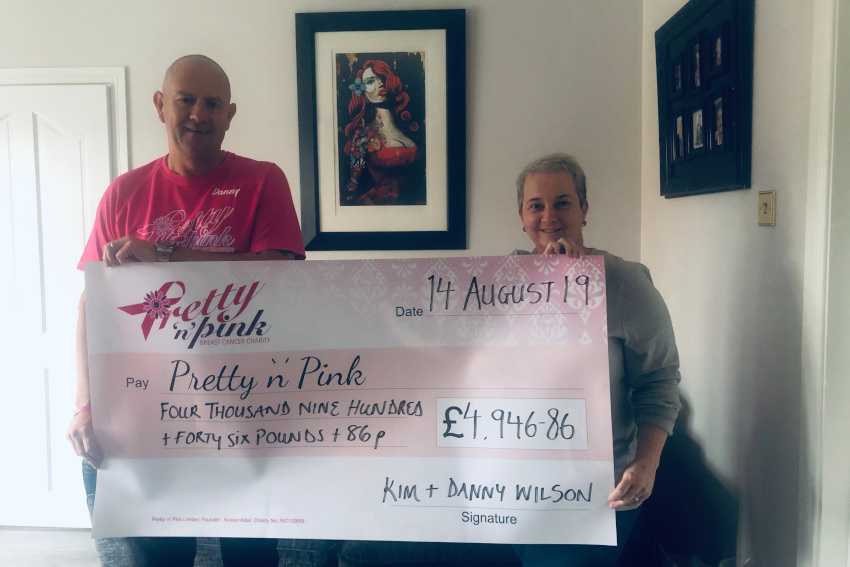 Kim and Danny
Back on the 20th September 2018 my wife Kimberley Wilson received the devastating news that she had breast cancer. Kim had found a lump a few weeks earlier on her left breast and as a precaution went along to her GP who referred her to the city hospital as is routine. Kim didn't think that she would receive the diagnosis that she did and as in most cases this is just the normal routine process.
After seeing the consultant and her plan of treatment being mapped out for the year ahead, we were given loads of information on organisations that can help in so many ways, as you can imagine it was all a lot to take on board at this time. In amongst all the leaflets was one was from a breast cancer charity called PRETTY 'N PINK. We had never heard of this charity before but one thing that stuck in our minds was the fact that it was the only registered breast cancer charity in Northern Ireland. Then by coincidence after a visit to the City Hospital we decided to visit the Park Centre Shopping Centre and we discovered the Pretty 'n Pink Charity Shop. We went in had a chat with Bronagh Kennedy and that was the start of our journey with Pretty 'n Pink. They informed us of all their great services and how Kim could apply for a small grant that is not means tested, this was a terrific boost as we had gone from two wages coming into the house now to only one.
All throughout the year we got to know all the girls at Pretty 'n Pink Leanne who is the sister of the Founder Noleen, Bronagh, Oonagh and all the volunteers. Sometimes after a visit to the Bridgewater Suite we would call into the shop for a quick chat and the staff were so kind and wanted to know how Kim was doing where was she on her treatment cycle and they all could relate through their vast experience of how Kim was feeling both physically and mentally.
As I am a keen runner we decided to give something back to this great charity so I decided that I would run the Belfast marathon to raise some funds for Pretty 'n Pink, this then sort of snowballed with many of our family and friends coming up with different ideas to fundraise from an indoor boot sale to selling Pretty 'n' Pink mugs. Also, my running club Albertville Harriers adopted the charity as their charity for the year and had two relay teams in the marathon and raised nearly £2500. The total we raised through our various fundraising activities came to £4,946. Through our experience we know how vital every penny raised is and how it goes to help not only the breast cancer sufferer but their family as well through the great work that Pretty 'n Pink do.
Back in February Pretty 'n Pink also took Kim and myself to the Europa hotel for dinner and then on to the Belfast opera house to see Bodyguard the musical along with around fifty other patients and their families, this is just one example of the numerous ways this charity helps people.
Pretty 'n Pink are an outstanding charity, their empathy, knowledge, care, compassion and most of all they have now become just not someone you see when you're sick but have become our friends. So please if you are thinking of fundraising please do it for this amazing charity.